Welcome to Salt Lake City Economic Development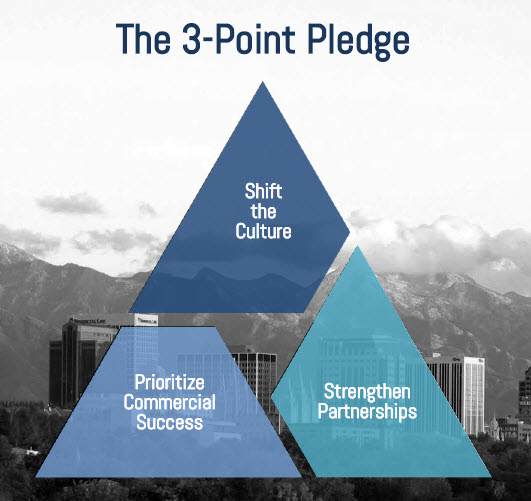 An intensive policy and strategic planning process around the economic development framework for Salt Lake City, entitled Enterprise SLC, was undertaken over the past 18 months. The process involved extensive outreach and meetings with business and community leaders. The Enterprise SLC process resulted in a Vision and Strategy Memorandum, which can be viewed
here
. 
In response to the Vision and Strategy Memorandum, a
3-Point Economic Development Pledge
was adopted which will; 1) address existing barriers within the organization; 2) support businesses with tools; and 3) foster and reaffirm partnerships with organizations who share our goal to create a Great American City.
Why Do Business and Live in Salt Lake City?
Opportunities galore and one of the best business environments in the nation! Unsurpassed outdoor recreation, pristine running and mountain biking trails from downtown, friendly neighborhoods (street fairs and all!), music, festivals, art festivals, ethnic festivals, knock-your-socks-off scenery from quaint outdoor restaurants and coffee shops, charming local bookstores, farmers' markets, after school programs, kids art programs, great schools (high SAT scores), the finest new city library in the country, world-acclaimed technology and research facilities, first rate higher education institutions, and a new light rail transit system.  With so much to do, there's never a dull moment.
We can direct you in all aspects of your business including Starting a New Business, Growing Your Existing Business, Moving Your Business or just Doing Business in Salt Lake City.  Our knowledgeable staff and partners can walk you through this process and support you along the way. 
Oh and if you aren't convinced that Salt Lake City is THE place to live and work...
Salt Lake City is unique in the many opportunities it provides for its residents. Salt Lake City has an International Airport, Free Trade Zone, seven world class ski resorts, opera and ballet companies, and the Salt Lake City Symphony orchestra. We are home to the University of Utah, which is one of the world's leading research institutions, especially renowned for its biomedical and chemical discoveries. We are praised for our quality of life and our love of life. It is easy to have such a vibrant setting in the Salt Lake Valley.
Come and visit Salt Lake City, soon.
---
451 So. State Street, Rm. 425 | Salt Lake City, Utah 84114 | Tel. (801) 535-7273 | ed@slcgov.com | Hours: M-F 8:00 AM - 5:00 PM