Public Utilities Greater Ave Garden

Welcome to the Greater Avenues Water Conservation Demonstration Garden. Utah is home to beautiful plants, some of which are naturally adapted to our harsh, hot summers, and cold though sometimes dry winters. Fortunately, many of these plants are ideally suited to our gardens and deserve a place in our urban landscapes. Whether your desire is to have a garden that is exclusively native, or you wish to augment a broader plant selection with plants from our Utah palette, there are many wonderful plants from which to choose.
Situated in Salt Lake City's northern foothills, this parcel of ground has been transformed from a lot with weeds and debris to a garden for learning and inspiration. With the intent to provide guidance in creating landscapes appropriate to the City's semi-arid climate and periodic droughts, the location drove the design and the plant palette. This garden demonstrates the beauty of our native plants, their role in a water-wise landscape, and their unique ability to create gentle transitions within wildland urban interfaces and our own urban gardens.The garden is divided into zones loosely representing Utah's plant communities and unique ecozones:
 
Greater Avenues Brochure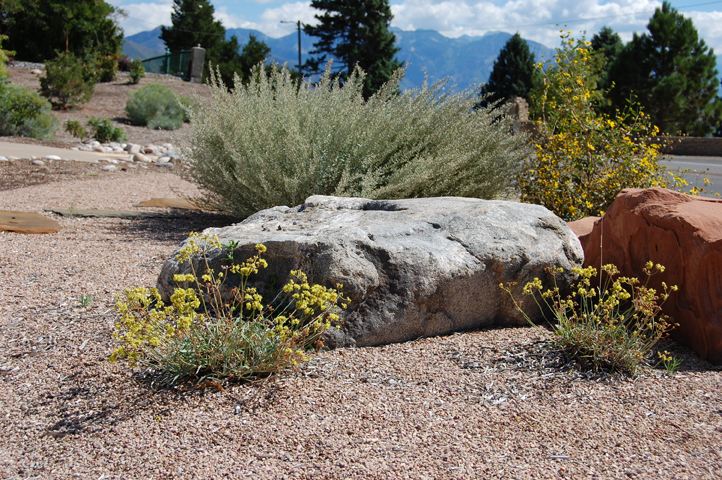 Desert Community
This plant community has more to offer than cactus, and many herbaceous perennials make this zone their home. The plants in this community, besides being lovely and fascinating, are very drought tolerant and in our landscapes rarely require supplemental watering after establishment.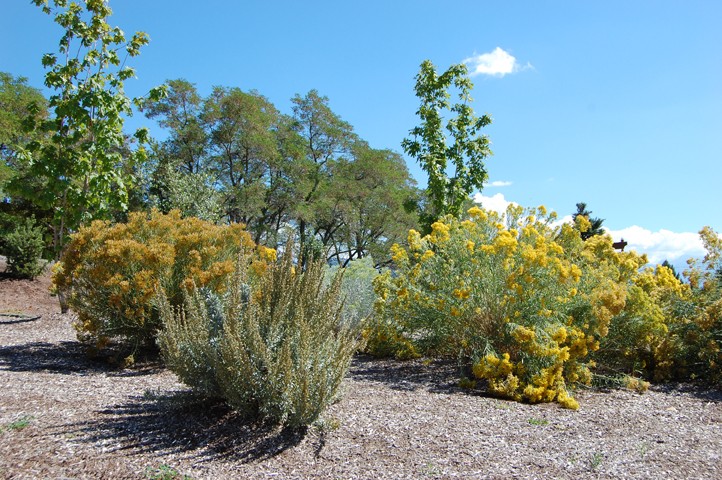 Shrub Steppe
The plants in this community are suited to the lower and drier elevations of our foothills.  Many familiar shrubs and flowers occupy this zone, and the variety of grasses range from lower, sod-like grasses to large, ornamental specimens. The shrub steppe species are particularly well-suited to our urban landscape and have a medium to high drought tolerance. 
Montane Meadow
This community is populated with mostly herbaceous species, including many grasses, bulbs, and flowers. The water-demand range for this community is broad, and the plants selected here represent those whose requirements are moderate to low, with some being suited to mild drought conditions.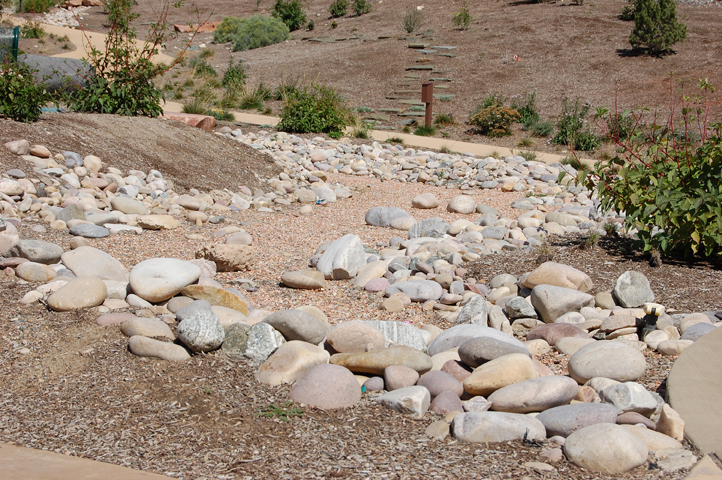 Dry Riparian
This zone is typified by areas that may only have water several times a year, as is found in washes. The plants in this community are adept at utilizing the water when it is available, but of also tolerating a higher degree of drought than plants growing in wet riparian areas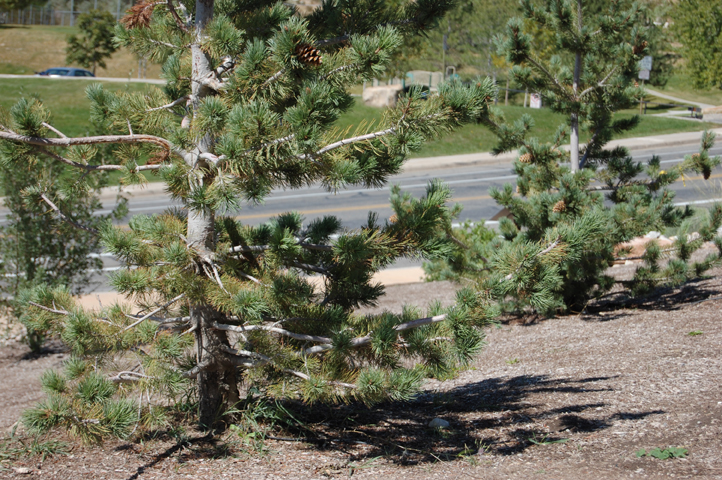 Mountain Foothills
This garden combines these higher elevation plant communities. Though plants from the subalpine regions tend to not fare well in lower elevations, montane and foothills plants are more adaptive to our location and many are well suited to moderate drought conditions. 
To assist in selecting plants for your own landscape, we have identified them by how they might best be utilized. Some plants, due to their versatility, may appear in more than one list. This list is not inclusive of all the wonderful Utah native plants available to us for our landscapes. 
Parkstrip plants need to be under a certain height, and should not have thorns. Parkstrips are typically narrow spaces, difficult to water without watering the streets and sidewalks, and so choosing plants with a lower water need means less frequent watering and less water waste.
Bearberry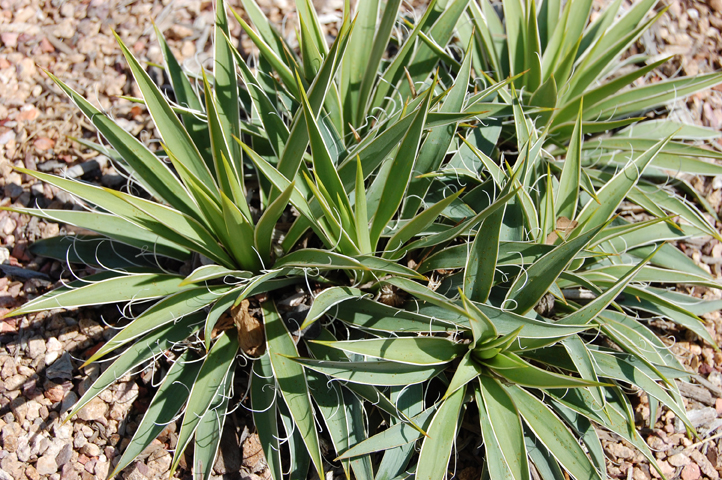 Creeping Mahonia
Cushion Buckwheat
Dwarf Yucca
Evening Primrose
Fire Chalice
Fringed Sagebrush
Showy Four O'Clock
Showy Goldeneye
Shrubby Sandwort
Foundation Shrubs ought not to need too much water yet still possess year-long interest.  These are the shrubs that are the back-drop to the rest of the garden, and would also serve well in shrub masses or to soften fences.
Big Sagebrush     

Cliffrose
Common Juniper
Curl-leaf Mountain Mahogany
Dwarf Smooth Sumac
Littleleaf Mountain Mahogany
Red-osier Dogwood
Rubber Rabbitbrush
Utah Serviceberry
Woods Rose
Perennials provide color, attract hummingbirds and butterflies, and bring excitement to our gardens. By their nature, within a season their beauty is fleeting, but year after year their dynamic nature brings our gardens to life.
Columbine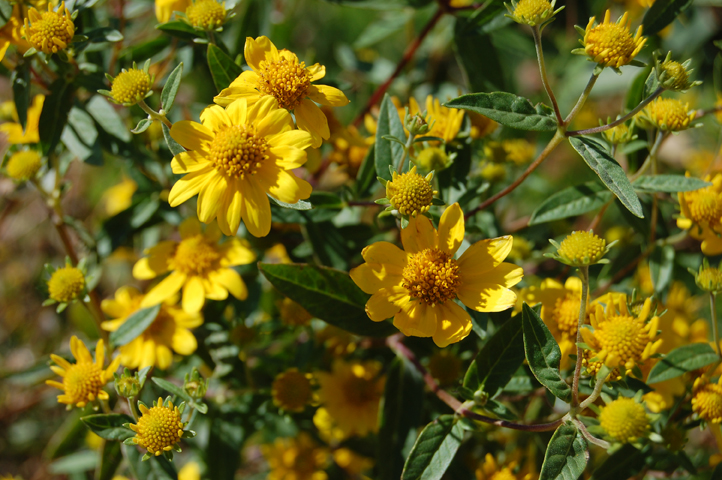 Dorr Sage
Dwarf Yucca
Fire Chalice
Globemallow
Pasqueflower
Penstemon
Rosy Pussytoes
Showy Four O'Clock
Showy Goldeneye
Patio and Accent Trees typically are lower canopied than larger shade trees, to create a feeling of coziness or shelter. These smaller trees provide a human scale in the garden, and offer shade and respite during the heat of the summer, frame front doors and garden gates, or screen neighboring views without overwhelming the landscape.
Bigtooth Maple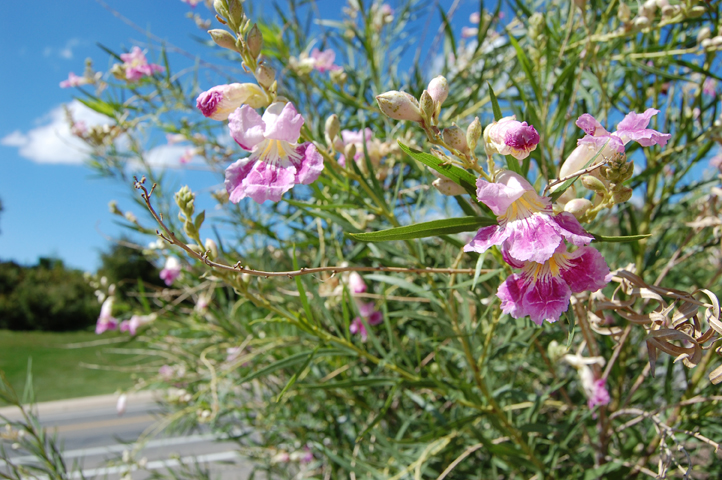 Desert Olive
Desert Willow
Gambel Oak
Utah Serviceberry
Evergreens and plants with Winter Interest play a vital role in our gardens, bridging that seemingly endless period from late fall until the first flowers bloom in the spring. Plants that serve this role have persistent fruit, interesting bark, sculptural form, or evergreen foliage.
Creeping Mahonia
Curl-leaf Mountain Mahogany
Dwarf Yucca
Limber Pine
Littleleaf Mountain Mahogany
Pinyon Pine
Red-osier Dogwood
Rocky Mountain and Common Juniper
Rubber Rabbitbrush
Woods Rose

DESIGN AND CONSTRUCTION
·         Landscape Architecture and rendering provided by Jamie Tsandes, Licensed Landscape Architect
·         Pergola design by Willie Littig, Jamie Tsandes, and constructed by Tuscan Garden Works
·         Irrigation design by Russ Jacobsen of Jacobsen Irrigation Design
·         Irrigation installation by Custom Sprinkler
·         Plants sourced from Grow Wild, Progressive Plants, and Willard Bay Nursery
 
Funding or in-kind contributions for this garden was provided by the Salt Lake City Department of Public Utilities, the Greater Avenues Community Council, Metropolitan Water District of Salt Lake and Sandy, Salt Lake City Department of Public Services, Jamie Tsandes, and Russ Jacobsen