Public Utilities Washington Square


Project BackgroundProject Background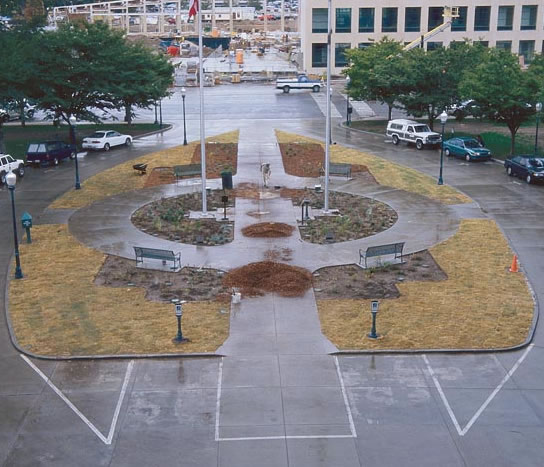 Salt Lake City Department of Public Utilities, in conjunction with the City,    
is committed to assisting the commun-ity in discovering methods of using water efficiently in the landscape. Water conservation demonstration gardens such as this one, partially funded through a Central Utah Project Completion Act grant, provide oppor-tunities to display landscape practices that encourage sustainability through proper plant selection, appropriate irrigation design, and other best management practices
Style and Design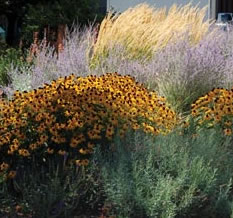 Taking inspiration from garden designers and writers of the 1800's, the garden has been designed in the "modern style" as described by John Louden and Gertrude Jekyll, and features masses of plants irregularly placed within a formal setting. The dominant plant is the herbaceous perennial; while bedding plants were still popular at the time, there was a growing garden movement away from the artificiality of annual flower beds, as well as growing disdain for the necessary time and resources required to maintain such beds. The new style emphasized using hardy plants in a stylized, naturalistic way. 
The 1800's was also a period in which plant introductions flooded into the market at unprecedented rates, and the Lewis and Clark expedition to the Pacific in 1804-06 revealed astounding new plant riches. The most garden-worthy plants quickly made their way to Europe where, during the second half of the eighteenth century—the time period that this building was constructed—there started a fashion for 'American Gardens' which displayed these new perennial discoveries from the western United States.  
While those early designers and expeditions inspired the palette of the garden, these perennials also had to be well suited to the site, tolerating full sun, radiant heat from the surrounding asphalt, and de-icing salt. Additionally, plants had to provide aesthetic value beyond the blooming season by offering attractive summer foliage, seed pods, or winter interest.
Any garden, whether it is planted in a classic style or a more modern rendering, can be constructed and maintained with not only an eye to beauty, but also sustainability. Our hope is that our garden inspires and illuminates the possibilities. 
 
IRRIGATION 
The irrigation system for the garden is a drip system with single-source emitters and is on a separate valve from the surrounding turf area to allow for watering independently from the remaining grounds.  Other methods, such as in-line emitter systems and soaker hoses can be equally as effective and offer their own benefits.
 
Soil Amendment
 
Due to construction debris and significant soil compaction as a result of the building renovation, soil in the site was excavated and replaced with a soil/sand/loam mix. However, the plants in this garden would also thrive in heavier clay soils provided they were not planted too deep or over-watered.
 
Maintenance 

All gardens, even well designed ones, need regular maintenance if plants are to thrive and irrigation systems are to remain effective and efficient:
•   Weeding removes water-hogging  competitors;
•   Deadheading can be optional; removing  spent  flowers may prolong the period
     of blooming, but seed pods may offer  forage for birds and interest during long
     winter months;
•   Irrigation inspections and timely repairs  ensure that emitters flow freely and
     that there are no leaks or geysers;
•    Mulching with compost helps to discourage weeds, cools the soil, reduces
     water-loss through evaporation, and improves the soil quality.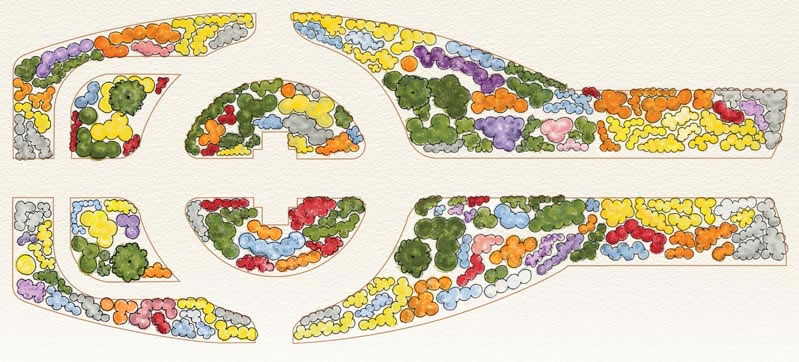 The garden is comprised of these hardy, water-wise perennials, chosen to fit the physical conditions and spirit of the site.
Change is essential part of a garden.  Seasonal variations in a garden create a dynamic and lively space.  Flowers are only one phase of beauty and many perennials also have interesting seed pods or attractive fall color.  We hope that you will return to the garden throughout the seasons, and for seasons to come, to see our garden grow.